East Africa Region
The year 1991 was eventful for the Congregation of the Apostolic Carmel as it launched its Mission in Kenya- East Africa. Sr. Mariella the then Superior General accepted the pressing invitation of His Grace, Nicodemus Kirima, the Arch Bishop of Nyeri Archdiocese, to run a residential secondary school for the Natives. This was materialized when sisters Aloysius, Maria Reeta, Theresia, Lusy George and Maria Thara took charge of the Sacred Heart Girls' Secondary school, Kiganjo, Nyeri.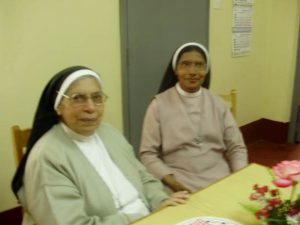 The seed foundation of the Apostolic Carmel in Kiganjo, in Nyeri district took root and gave birth to the establishment of a similar school named Mt. Carmel Girls' secondary school in Gathugu, in Karatina district in the year 1993. After a couple of years the mission expanded to Nairobi the capital city of Kenya. In the year 1995 a secondary school was opened at Buru Buru through the generosity of Cardinal Otunga of Kenya. This in turn gave rise to other institutions. By the grace of God at present we have
Four Secondary schools
Seven Primary Schools
Two Day Care Service Centers
One Medical Clinic
Besides the apostolate of education our sisters are engaged in Parish and Social works. It was a long awaited dream of the superiors General, past and present to raise the East Africa Mission to the status of Region in order to facilitate its growth and effective functioning. This became a reality on 4th December 2010. The formation for the Kenyan sisters started in 1999. At present 33 Kenyan Professed sisters out of which 20 are finally professed.
The Superior General and Council at their meeting held on 24th November 2010 appointed Sr. Susheela as the first Regional Superior. It was God's will that Sr. Susheela be elected as Superior General in the General Chapter on 1st February 2014. She had to take over the office on 18th May 2014. In her place, Superior General and Council appointed Sr. Winifreda as Regional superior. She took charge of the region on 27th April 2014.She completed her two terms of six years. Then Sr. Maria Deepthi was appointed as Regional Superior and took charge of the region on 25th April 2020. We pray that the East Africa Region grow from strength to strength to further the Kingdom of God.