Experiencing God's Love as All Sufficing in contemplative prayer, lived in a simple, joyful and life giving community and shared with all, especially the poor through Education and other Apostolic Ministries.
Experiencing God in contemplative prayer and sharing it through prophetic witness in our life and mission.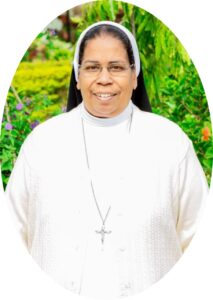 Message From The Regional Superior
Some dreams never die they live forever, gaining in depth and substance with the passing of time. Such are the dreams that are woven with the best human aspirations because their realization is in the pattern of God's design. People who dream such dreams are not dreamers, they are called men and women of vision, and so I recall these great women of vision who have shaped the destiny of the Apostolic Carmel in East Africa region.
The Apostolic Carmel Congregation of Women Religious was founded in Bayonne, France, on 16 th July 1868 by Mother Mary Veronica of the Passion.
Mother Veronica (Miss Sophie Leeves), Foundress of the Sisters of the Apostolic Carmel, Mangalore, was deeply religious and highly intellectual.
EAST AFRICA REGIONAL TEAM